Publication: Policy Brief
March 31, 2023
Making Access to Justice for All a Reality: Appraising Progress on the Promise of SDG16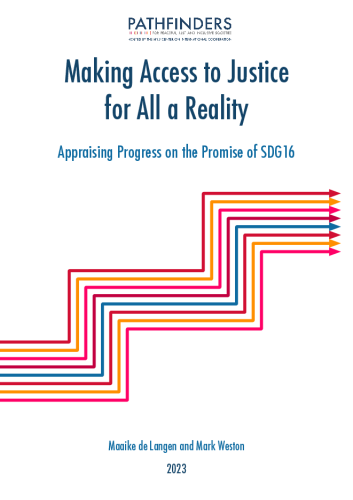 World leaders took a bold decision in 2015 when they adopted a global goal of providing access to justice for all by 2030 (SDG16), which threw a spotlight on the need to address inequalities and injustices in justice systems around the world. Inspired by this goal, the movement for people-centered justice works to shift justice systems from primarily benefitting the wealthy and powerful to prioritizing the needs and interests of ordinary people: from justice for the few to justice for all.
This paper describes the efforts of the movement for people-centered justice over the past years and sets out what progress was made, first in setting the agenda and defining the approach, with the work of the Task Force on Justice at its heart, and subsequently in expanding political support and building networks of diverse stakeholders, culminating in the founding of the Justice Action Coalition. From energizing grassroots activists to global political and advocacy efforts, the movement has created new opportunities for engagement and collaboration between diverse stakeholders. As a result, governments and international organizations are increasingly recognizing the importance of promoting people-centered justice.
The paper concludes that to sustain progress in the coming years, the Justice Action Coalition must go beyond political mobilization and strengthen its ability to inspire and support implementation at the national and local level, while becoming the anchor point for a global knowledge architecture for people-centered justice.