Publication: Policy Brief
April 8, 2020
Justice in a Pandemic, Briefing One: Justice for All and the Public Health Emergency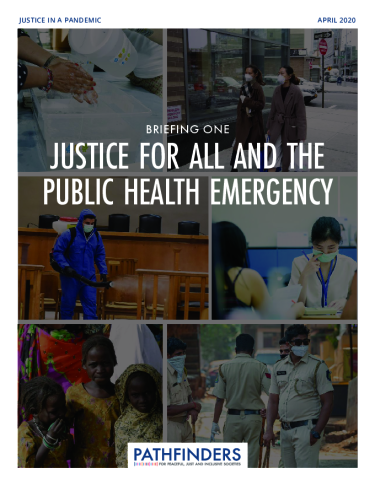 The COVID-19 pandemic is an unprecedented global emergency. It is not only a health crisis but also a human rights crisis. Justice actors face daunting responsibilities as they design, implement, and enforce new measures to prevent the spread of infection. Measures that heighten the risk of human rights abuses can undermine trust, at a time when the justice system most needs to maintain the public's confidence. For better or for worse, justice systems and justice workers are on the frontline of this pandemic.
Police in masks enforce the lockdown in Goa, India (©leshiy985/Shutterstock).
This Pathfinders briefing, drafted by lead authors David Steven, Maaike de Langen, Sam Muller, and Mark Weston with the input of more than 50 justice experts from around the globe, discusses the most pressing priorities that the public health emergency poses for justice leaders and proposes seven areas for urgent action as the tide of infections continues to rise. It is the first in the Justice in a Pandemic series.
Download the briefing here.

Subscribe to the
Pathfinders Newsletter